The Chapel Hill News - 10 January 2001
Tails of Two Cities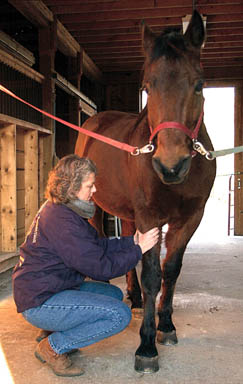 Thousand-year-old techniques are new again. Call me a skeptic. I am a devotee of veterinary medicine and have long thought acupuncture, or massage therapy, was "out there." It is evident, though, that more people are utilizing alternative therapies, not necessarily as a substitute for conventional veterinary medicine but as a complement to it.
Tufts University School of Veterinary Medicine is in the process of establishing a certificate program in integrated therapies for graduate veterinarians. Tufts will be the first school to offer formalized alternative training, even though half of the country's vet schools expose their enrollees to these therapies.
I realized I needed to update my thinking, so I set out to explore these therapies with learned, local folks. Bobbi Whittemore, an equine massage therapist with The Horse and Rider Connection, came out to my barn last Thursday. She Is familiar with my horses since she has taken care of them when I have been away, and she had already been wanting to get her hands on Brandywine, who she felt needed her touch.
The fee for the initial visit is $30, and minutes into her ministrations to Brandywine I decided I had struck gold. This horse, often crabby in his demeanor, ears back and body tense, had his head hanging and his lower lip stuck out, signs of great relaxation.
Whittemore has loved horses since she was three. "I'm a little out of sorts if I don't have the scent of horse on me every day," she said. She wears clothing that has been around a barn or rubs
her hand over her barn boots before she greets her horse customers. It helps makes her one of them. A slipped disc repaired by surgery propelled Whittemore on her career path In equine massage. Massage therapists and a chiropractor in Chapel Hill worked on her extensively and defied a prognosis of chronic pain. She knew she had to bring this therapy to horses.
"Equine massage is a calling," she said, "something I feel I have to do."
In 1997 she received certification from Equitouch Systems in Loveland, CO.
Why would someone request her services? One reason, Whittemore said, is that horses at shows are often tired, worn out and nervous before the competitive events begin.
"They enter the ring at their worst, expected to perform their best," she said. "Massage calms horses, rejuvenates them. They enter the ring, calm, clear, focused. Their muscles are warmed, supple and flexible. They can then perform at optimum and in a state that helps prevent injuries. Post-event massages allow a horse to recover and be ready for the next class. This gives them an edge on their competitor." warmed, supple and flexible. They can then perform at optimum and in a state that helps prevent injuries. Post-event massages allow a horse to recover and be ready for the next class. This gives them an edge on their competitor."
People have called Whittemore because they've had massages and think their horse would enjoy one, too, or to help keep their horse in good health.
"Or they call me because no one else knows what to do and they want to see what happens with massage," she said.
Whittemore loves the intimate connection with the horse she gets from her work. "They teach me so much."
Including another language. "I had traveled for hours to work at this barn on a horse that would not stand still," she said. "Five people were watching me work. I tried all kinds of techniques to find something he liked. Just as I was about to give up, I noticed that he kept reaching way over and scratching at his flank. I thought, he's pointing, what the heck. I started massaging there." The horse stopped fussing and fell asleep.
"They are all body language. It's up to us to learn the language," Whitemore says. She keeps up with her vocation by reading, maintaining contact with the school where she was certified, talking with other practitioners, and going to human-related seminars and converting the techniques and theories into horse. Her hands and body ache after she has worked on several clients. "I need a massage and can't do it myself, because I'm already sore," Whittemore said.
She spends half of her time educating people who don't realize the value of equine massage therapy.
"Some think it just relaxes the horse a little, and doesn't last long," said Whittemore. "The work I do is therapeutic. It is progressive. It often addresses the root of problems. It can be relaxing, or energetic, or more. Anytime two energetic systems come together, healing happens."
Whittemore was pleased to hear of Tufts' new program as she likes to work in conjunction with horse owners' veterinarians on problems. She knows tat vets often are skeptical of what she does and is just grateful that they tolerate her. "Some are afraid I would get called into a situation that a vet should have been called to," she said. "I have often told my client to call a vet."
Just watching Whittemore work took the tenseness out of my limbs. They felt wonderfully Jell-O-like. My mind too has begun to change and make room for new ideas to complement the ones I hold dear. It is true, as Whittemore says, "My work speaks for itself."
Brandywine agrees, too.
To learn more about The Horse And Rider Connection and equine massage therapy, visit Whittemore's web site, www.horseriderconnection.com. Though Whittemore mostly works on horses, she has worked on dogs, cats, emus, llamas, and a deer that ran into her truck.
Next month's column will be about acupuncture. Got a story about that?